It's less than a month until the Caldecott 2016 Award will be announced. The committee doesn't do a shortlist for the Caldecott or Newbery that I've ever been able to find. It's all sort of hushed up, which leaves us children's librarians to our own devices. Throughout the year, I've been processing the new books with an eye toward the illustrations and a wonder at which of these artists will be given the coveted Caldecott Award for best illustration in an American Picture Book come January. Well, I don't know. Unfortunately, being immersed in the world of picture books and storytimes and preschoolers doesn't make me inherently knowledgeable about what the committee is looking for when picking their winners for the children's book awards.
But, if I were to choose a set of nominees, here would be mine. I can highly recommend all of these books if you're still looking for a beautiful picture book to give away this Christmas:

The Last Stop on Market Street written by Matt de la Pena, illustrated by Christian Robinson.
I liked this book so much last summer that I wrote a blog post dedicated to it. I still love it. My preschoolers loved the illustrations. Plus, I feel like the story is set in the reality that my community confronts every day, and that's good for my kids to see. It's good that there is a story that reflects the beauty of their community, even when that community includes things like homelessness and graffiti and is not the typical storybook setting.

Boats for Papa written & illustrated by Jessixa Bagley.
This is it for me. This might be my top choice for Caldecott. The problem for the committee might be the topic that it deals with, but the illustrations are beautiful and I really really love this book. This is the exact type of book that I look for when recommending titles to parents who are searching for books dealing with major issues and how to explain things to children when the parents themselves are struggling to find the words. This book deals with loss and grieving in the most beautifully loving way. No judging the ways in which someone grieves, no time limits for grieving, nothing. Love and understanding and patience are what shine in this beautiful and gentle story. The illustrations are so well done and very detailed. You see the details in the boats and the emotions on the faces of Mama and little Buckley. It's just…great. If this book isn't even a nominee for Caldecott 2016, I will be sad.

Sidewalk Flowers "written" by Jon Arno Lawson; illustrated by Sydney Smith
This is a wordless book, so the entire story is told by the illustrations alone and Smith does a fantastic job. It's really a beautifully written piece of art. The father and daughter are out for a stroll and the father is pre-occupied while the little girl collects wildflowers she finds along the route and she gives them to people as they go. The illustrator uses black and white at first, and as the story progresses and the girl gives away more and more flowers, the pages become beautifully colorful. She lights up the world with her generosity. It's gonna give you a big case of the happies. I haven't really heard much buzz about this book, so I don't know if it's even on people's radar, but I'm putting it out there as one of the best wordless books I've seen this year.

Waiting written and illustrated by Kevin Henkes
So, Henkes is sort of a King among children's lit authors. He's won this award before. He is revered in some circles. But, there's a reason and this book is a great example of the genius of Henkes. He just gets it. It's simple. It's about waiting for something to happen. Seriously, that's all it's about. The book is about five friends who sit on a windowsill and wait. Each are waiting for something different and amazing to happen. The illustrations are gentle and pastel-y and beautiful. It's just…adorable. That's what it is. Adorable. I would be surprised if it's not a big contender for the Caldecott, not just for the name recognition, but it is freaking adorable.

Water is Water : A book about the Water Cycle written by Miranda Paul; illustrations by Jason Chin
Okay. This title is not good. I will give you that. It totally doesn't scream 'PICK ME UP AND READ ME. I'M AWESOME.' Beautifully written and illustrated non-fiction picture books are somewhat rare, which is why, when one comes along, we all need to shout it out to the heavens. I'm shouting out because this book is excellent. It is written in a bit of a language pattern, showing the different states of being for water through liquid phase, gas phase, solid phases, which is great for kids. It hits water, fog, mist, rain, ice, snow, etc. The illustrations are out of this world, too. This should be a major contender for the Caldecott if the title doesn't hurt it's chances.

The Whisper written and illustrated by Pamela Zagarenski
This is probably the big buzzy leader going into the final few weeks of the year. Zagarenski is an amazing artist, no doubt. The book is beautifully written and deals with librarians favorite topics: books and the power of imagination. I see what the fuss is about. It is for these reasons that I think it's got a really strong chance at being named the top picture book of 2015. I think it's a great book, but I wouldn't read this to my preschoolers. This is the sort of book that I think adults love more than kids do. This is the book that you buy as an adult because you love books and you love to read and this book makes you feel all the feels about the power of reading. It's good. But, as for best picture book of the year, I personally hope it goes to a book that kids would love to read as well. The story here is just a bit abstract, although the illustrations are beautifully detailed. Zagarenski has been a Caldecott honoree twice, so perhaps the third time is the charm this year?
Other possiblities: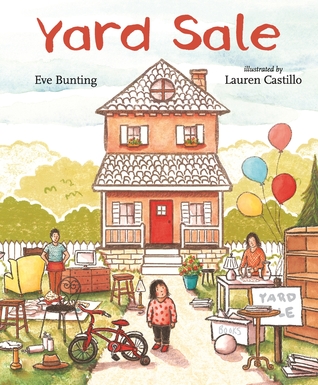 Yard Sale written by Eve Bunting; illustrations by Lauren Castillo
Another favorite book of mine because it deals with a difficult topic for kids and parents alike. The family is facing foreclosure and having to sell all their belongings and move into a small apartment. The yard sale is the final effort at making some money to begin anew in the little apartment. Bunting and Castillo handle this difficult topic so gently and beautifully. The struggle of the parents and the little girl to let go and accept what's happening is so clear in the illustrations but the story with Eve Bunting at the helm (another giant of children's lit) is so well done. It's a really great book. Highly recommended. I don't know if it will make it onto the committee's nomination list or not, but it's a fantastic book no matter what.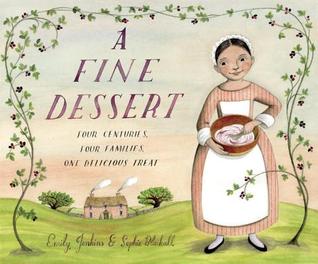 A Fine Dessert : Four Centuries, Four Families, One Delicious Treat written by Emily Jenkins; illustrated by Sophie Blackall
Another non-fiction picture book that knocks it out of the park! Hurraaaay! This one is about a simple recipe, but illustrates the progress of the culinary industry over the course of four hundred years. The illustrations are detailed and beautiful. The story is repetitive, but distinctly shows the differences in each century and each family's living arrangements. I really liked this book. It has been on a few lists of the year's best picture books, so it has a recognition base already. It might be a good sleeper choice for the Caldecott!

The Day the Crayons Came Home written by Drew Daywalt; illustrated by Oliver Jeffers
This is the follow-up to the wonderful book "The Day the Crayons Quit", which is a big hit with my preschoolers. This time, there are crayons who want to be rescued rather than quit their job as coloring tools. I like this book, but I am pulling for a picture book that's original (not that this idea is old or anything, but these two did so well on the first book, I sort of wish they'd have just left it alone rather than trying to cash in again…but that's sort of a petty reason to leave them excluded from a list like this.) It's already won some awards based on popularity by readers. Whether or not that pulls the awards committee into giving the Caldecott to Jeffers, I don't know. As I said, a great book, sure to please the kids and adults alike, but I'm hoping for the winner to be something more original this year.
Okay, those are my picks. I hope I have at least a few honorees and maybe the medal winner on here. The choice is announced on Monday, January 11th at 8 am during the American Library Association's Youth Media Awards in Boston. Happy reading!